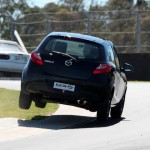 After our initial test at Wakefield Park earlier this month we decided to "verify" our results at Sydney Motor Sport Park's challenging new South Circuit. The pictures and footage below demonstrate the capabilities of a stock Mazda 2 when driven…. vigorously.
The video below prompted this message from one of our racing brethren;
…looked like it was a handful….driving a stock car really hard is much harder than a vehicle set up for the purpose! Can we hang a hair dryer on your Mazda 2, double the spring rate and get some slicks (please!) might as well dump some aero on at the same time – Scott
The process of tuning our Mazda 2 will be phased including;
modified suspension and geometry
ECU reflash
lighter components including wheels
sticky track tyres (probably not slicks)
cold air intake
modified exhaust and pipes
roll cage and bracing
Our second Mazda 2 will remain in factory standard trim so that we can continue to evaluate new performance parts. Check out our gallery at Sydney Motor Sport Park (formerly Eastern Creek International Raceway);
We'll post some photo's and video of the Wakefield Park test real soon!